Dice-A-Roo
Fancy a game of chance? Well you are at the right place. This is the great new dice game
Dice-A-Roo
, brought to you by King Roo of the Blumaroos. Take a look at the
hi-score table
!
*** NEW *** - Have you read the story of King Roo in the Neopedia?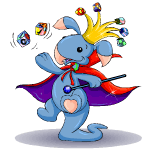 I am King Roo, Welcome!
The Current Dice-A-Roo Jackpot is 2,500 NP





The Rules
Ok, well it's easy. There are five dice, and you play the game by rolling one at a time. You start with the red die, then move to the blue one, the green one, the yellow one, and lastly the silver die. Each die has a number of faces, each one of these will have a special effect.
You can earn Neopoints by rolling the dice, and these Neopoints are added to a pot. You can stop the game by collecting the pot at any time, or you can continue and risk losing everything (some of the dice have nasty things on them as well).
Each die has a face called 'Proceed'. If you get this then you go onto the next die. There will also be a face called 'Lose'. If you lose then the game stops and you lose all the Neopoints in your pot.
The silver die has a face called 'Jackpot!'. This is the aim of the game! If you manage to get all the way to the silver die and get this then you will win the jackpot (which could be thousands!!!!!).
NEW!!! 1 in 10 games of Dice-A-Roo now have a 10X JACKPOT MULTIPLIER BONUS!!!